What is LeadYoung?
A leadership program that is specially designed to target organizational leaders when they are most moldable, not simply a kids' program emphasizing leadership
Project-based, experiential, organizational leadership training curricula, that is grounded in research and modelled after executive programs; designed specifically for children's 5 developmental phases
Teaches the 16 most desirable leader qualities, dividing them into 4 modules, each consisting of 8 lessons (participants can join any of the 4 modules, since they are non-sequential)
Taught by certified trainers using media, experiential activities and real-to-life projects
We believe that:
LEADERSHIP is the process by which people accomplish together what they could not as individuals. LEADERS are those who spur on this process.
The single most strategic time for developing leaders of character and competence is the preteen years (10-13 years)
Back to Top
When and Where does LeadYoung Meet?
LeadYoung meets at Bramalea Alliance Church, and we meet at Sundays from 10:30AM - 12:15PM.

Below are the start dates for LeadYoung Modules:

Module 1: October/November 2021
Module 2: January/February 2022
Module 3: TBA
Module 4: TBA
How Much does LeadYoung Cost?
LeadYoung costs $60 per module. The cost includes the book and a t-shirt.
Is LeadYoung Right for my Child?
LeadNow is a program designed for 10-13 year olds. The training is most effective for the 20% who currently exhibit a propensity toward influencing. Generally, these characteristics emerge early in life, observable by parents, teachers and coaches in social settings. Whether it's trying to boss a sibling, organize recess activities, or initiate new projects, there are cues for detecting emerging leaders.
Because life experience is still limited, we rely heavily on developing the natural leadership talent identified through an online assessment that adults complete for the preteen to help identify children with observable organizational leader qualities, making this a basic requirement for enrollment in the program. Students are selected based on scoring
LeadYoung Modules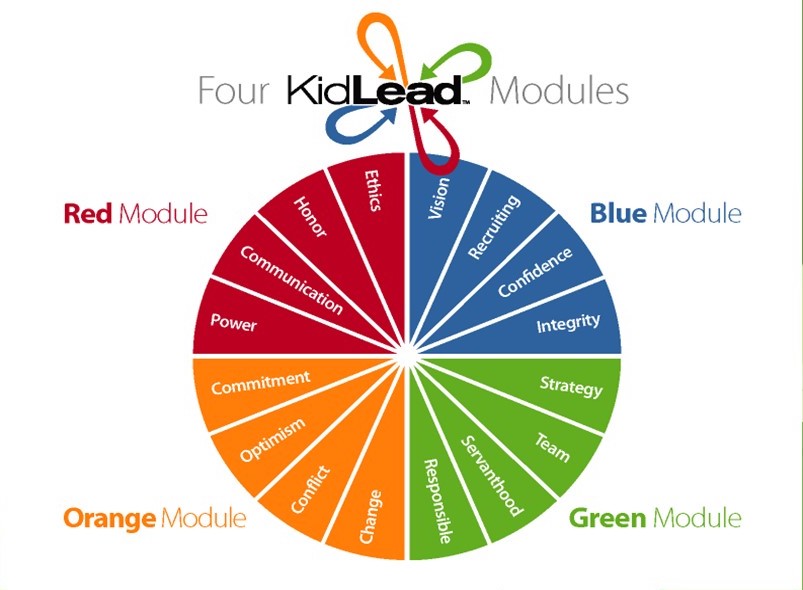 Red/Ruby Module

Sessions 1 & 2: Value: Ethics (what it means to have high moral, internal standards)

Sessions 3 & 4: Attitude: Honor (what it means to esteem people and value them)

Sessions 5 & 6: Relationship: Communication (how to get your message to others)

Sessions 7 & 8: Decision: Power (how to get it and use it appropriately for good)

Blue/Sapphire Module

Sessions 1 & 2: Value: Integrity (what it means to be honest and internally whole)

Sessions 3 & 4: Attitude: Confidence (what it means to exude faith, take risks)

Sessions 5 & 6: Relationship: Recruit (how to get people on your team and in the right positions)

Sessions 7 & 8: Decision: Vision (how to decide direction and say it in a way that inspires others)

Green/Emerald Module

Sessions 1 & 2: Value: Responsible (what it means to be dependable, taking ownership)

Sessions 3 & 4: Attitude: Servanthood (what it means to be humble and put the team first)

Sessions 5 & 6: Relationship: Team (how to create unity and focus in your team)

Sessions 7 & 8: Decision: Strategy (how to get to the goal the best way)

Orange/Gold Module

Sessions 1 & 2: Value: Commitment (what it means to be dedicated and persevere)

Sessions 3 & 4: Attitude: Optimism (what it means to be hopeful in stressful situations)

Sessions 5 & 6: Relationship: Conflict (how to diffuse potentially destructive emotions)

Sessions 7 & 8: Decision: Change (how to make transitions effectively)