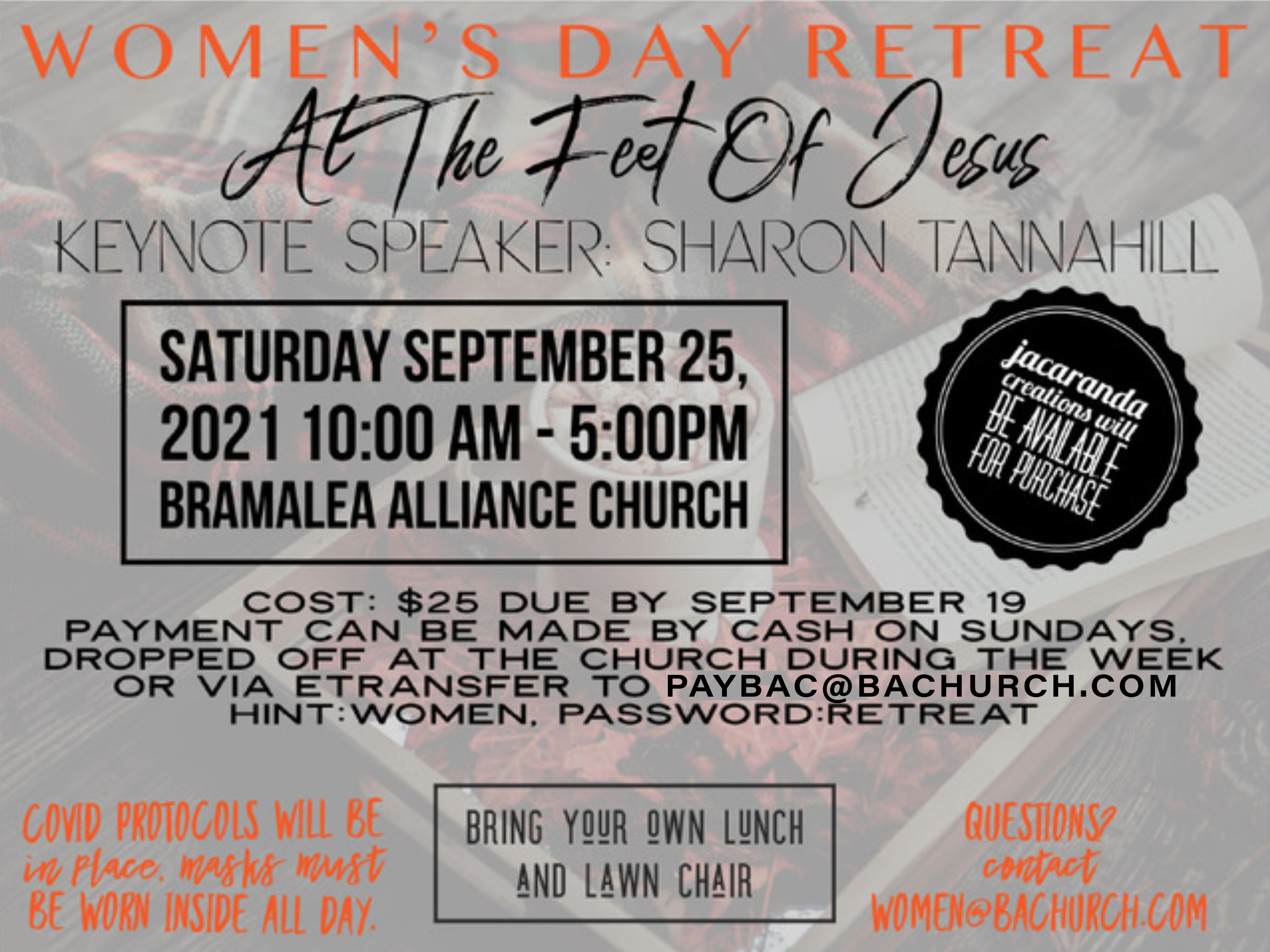 Dear Women of BAC,
You are missed! You are invited to our Women's DAY Retreat, SATURDAY, SEPTEMBER 25TH, at 9:30 a.m. at the church.
Our speaker is SHARON TANNAHILL. Sharon loves to teach God's word. You will want to be a part of this day!!
Our retreat title is: AT THE FEET OF JESUS. Come join us as we learn together.
We will be following COVID-19 guidelines to keep as safe as possible.
We will be wearing masks for the entire day and following social distancing protocol.
You will receive three nametags upon your arrival. One will be for you, one will be for your chair in the sanctuary, and one will be for your chair in the welcome hall. This is designed to ensure that no one else sits in YOUR chair for the entire day.
We are asking you to bring your own lunch. This is being implemented to remove any concerns about contamination.
We are asking you to bring your own lawn chair and weather providing; we will be eating socially distanced outside and enjoying some fresh air.
Please bring a reusable water bottle for the day.
These are strange times, and we understand that some are not ready to gather with people outside their usual 'bubble'. You should not come if you are not feeling well, or have been in contact with a person who has tested positive for COVID. Last minute cancellations are not a problem.
Retreat starts at 10:00 AM sharp. Please arrive at 9:30 AM to allow time for COVID-19 screening and sign-in.
Enjoy a craft in the afternoon.

We are also bringing shopping to you! Jacaranda Creations will be available for purchase. (I know it seems hard to believe, but Christmas shopping will be upon us before we know it!)
Prepackaged snacks will be provided. Drinks will be provided.
We are looking forward to our day together! We are praying for you. We look forward to seeing you!!!
Grace and Peace,
Donna Lodge
contact women@bachurch.com for more information